So here we are, in the final home stretch: the third trimester! Last weekend, I had my baby shower for our baby girl and it was the shower of my dreams seeing as it was a high tea theme. Leading up to it, I was so worried about the weather being horrible with it being the middle of Winter, but the sun decided to come out and make my day absolutely wonderful.
I had so many of my family and close friends come and just shower me with so much love, support and the most thoughtful gifts. I couldn't feel more lucky than I do these days to have all of these women around me supporting me through this incredible moment in my life. So to everyone who came (and even to those who couldn't make it, your love was felt from afar), thank you so much for absolutely everything!
With how picture perfect the entire event was (thanks to my beautiful best friend who planned and hosted it with me!), I wanted to come on here to share a few snaps from the magical day.
Hope you love!
| B E F O R E |
The party prep/decor before everyone arrived and before we brought the food out.
Really was looking forward to seeing how the high tea/pink, white and gold theme would play out; it was perfect!
| the p a r t y shelf |
I wanted to create a section entirely for the party games, prizes and giveaways, and then pretty it up.
Much love to my cousin Bethany for designing my invitations, baby shower games and signs! They tied the entire section beautifully.
| the h i g h t e a spread |
I'm in love with the way the set up turned out. It's pretty much better than what I envisioned.
I wanted to make sure I incorporated some feminine pink tulle around the food table because if there was ever a time I could be super extra, this was definitely it. I must admit, it tied it all together nicely though; so that's proof being extra is worth it.
The cake stands and pink petal plates were originally my sister-in-law's from her bridal shower but she so generously let me borrow them for my baby shower and honestly, it made everything look perfect and completed the entire look of the theme!
our homemade mini pavlova cakes
our tuna filled, salmon filled and chicken avocado filled sandwiches
my best friend's made-from-scratch berry panacottas
peek of the strawberry tarts and pink-iced vanilla cupcakes
what high tea is complete without macarons?!
tuna stuffed mini pastries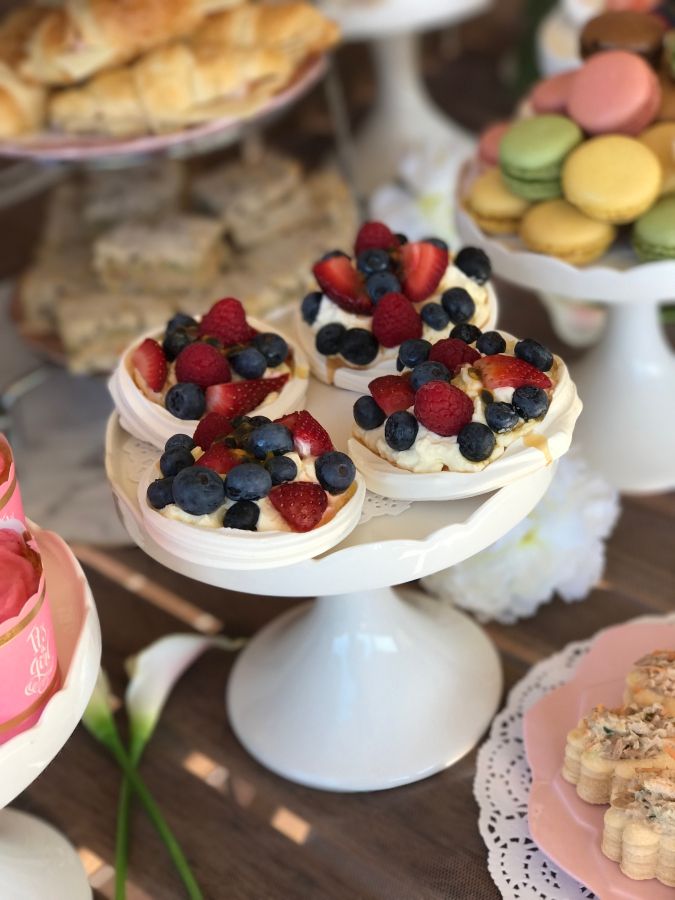 more of our homemade mini pavlova cakes
Most of our food selection was made by us; all except the crinkles and macarons.
Everything was fresh and delicious, and I'm so glad everyone enjoyed the food! I was slightly worried we wouldn't have enough but there were plenty of leftovers to snack on throughout the entire shower.
My best friend made the panacotta from scratch and it was beautiful. Such a shame we only made a few because it was the talk of the party food-wise!
| g i f t t i m e |
The event was strictly women only, but for this part, I wanted to make sure to bring out my fiancè and son to open up the presents with. Personally, I feel like it's such a special moment during a baby shower that the baby's dad and baby's siblings be there when the gifts from family and friends are being opened.
| the c a k e |
It was scrumptious and absolutely gorgeous! Thank you so much Annabelle! x
| the personalised s n a p c h a t g e o f i l t e r |
So continuing with the "extra" theme I was going for, my best friend and I thought it would be a great idea to order and customise our own Snapchat geofilter for the event. I'm so glad we did because it was honestly so cool to hop onto Snapchat and have a special filter that my guests could use for the shower. I was obsessed with using it all day, so here are just a few of my favourite snaps from myself and some screenshots from some of my guests!
| the g u e s t s |
These aren't all of the special people in my life, but this is a good amount of them, and I am so grateful for each and every one of them for being so loving and supportive these days.
I know that their excitement for baby girl's arrival is so genuine and pure, it truly means a lot to me to know that my daughter will grow up with so many badass, strong and beautiful women surrounding her everyday, reminding her that the world is hers to conquer.
We are so blessed and my heart is so full. Thank you so much to everyone who came to my baby shower! Without your support, I don't know where we would be as a family, so truly, from the bottom of my heart, thank you.
We've only got less than 6 weeks until her expected arrival, and I cannot wait for you all to meet our little princess. It's fast approaching and I know she's going to be showered with so much love when she gets here.
We love you all so much!
I hope you guys enjoyed taking a peek at what went on at my baby shower.
Thank you all for your kind words on social media regarding my pregnancy!
It's been such a tough one, but we're almost there!
Filled with so much love,
Danica xo