Hi loves,
I don't think I've ever actually done a room tour on here before. Maybe because my room has never been up to par, but since we've moved houses, it's given me an opportunity to do a massive clean out of everything I own and now my room has never looked better. I'm actually so proud of it.
There are still a few things I want to tweak and add, so I may do an updated room tour after I've properly organised everything. But for now, I'm pretty happy with the turnout, so let's get started!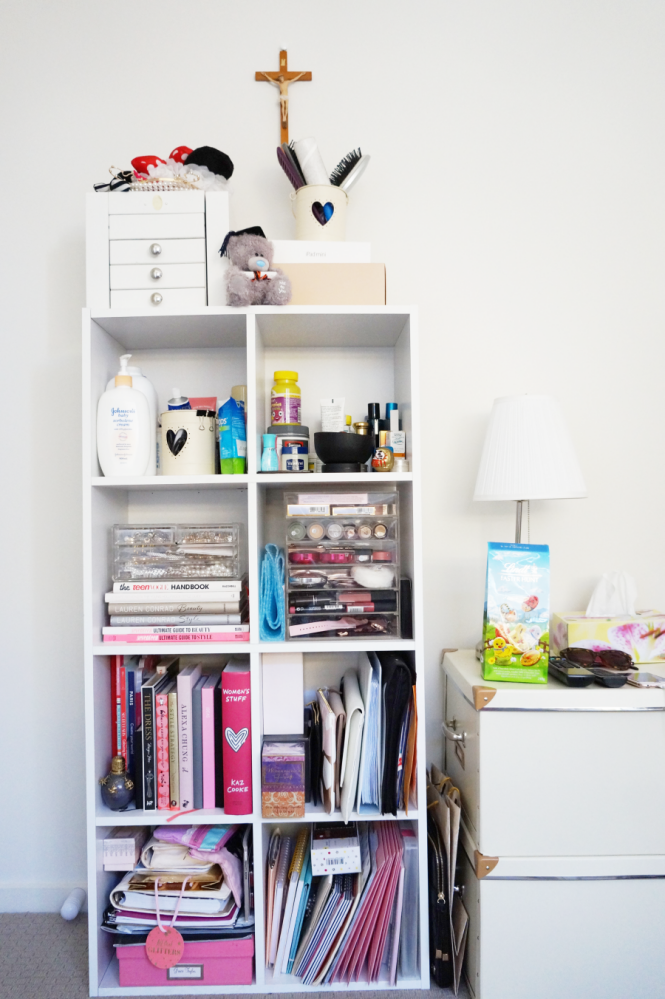 *White cube shelf from K-Mart for $39 | Cream vintage-look stacked boxes from IKEA for $7.99ea (RRP $19.99) | White bed frame from IKEA for $199 |
Let me know if you want to know where the other little bits and bobs of this section are from by leaving a message in the comment section!
*
We're starting off with the first section of my room. When you walk into the door, this is on your left side. My cube shelf is basically where I keep bits and bobs of everything - books, papers, makeup, skincare; you name it, it may be there. Additionally on top of this shelf is my jewellery box, a
Mecca
box filled with makeup that's yet to be used, my collection of headbands, my hairbrushes and my graduation bear.
Then right beside the cube shelf is the "bedside table." That term is used loosely because it's actually storage boxes just stacked on top of each other, but I really love it. When we moved, I scratched my head bald trying to figure out where to put my magazine collection. It wasn't until we stopped looking for a bedside table when I found these storage boxes 5 minutes away from the new house at IKEA. They just seemed to fit perfectly with the theme I was going for, and cleverly stores my magazine collection.
*Desk/vanity from IKEA for $99 | Replica ghost chair from Aldi for $59 | Mirror on the left from Target for $49 | Mirror on the right from IKEA for $24.99 | Perfume tray from Victoria's Secret for Free with Purchase | Pen holder from IKEA for $4.99 | Brush holders from Officeworks for $5.99 each |
Let me know if you want to know where the other little bits and bobs of this section are from by leaving a message in the comment section!*
As we move along the room, we come to my desk/vanity area. If you see a room interior pic on Tumblr, you'll most likely spot a ghost chair somewhere in there. Naturally, I had to have it. I've sat on a ghost chair during my whole college experience, and I instantly knew I had to have it in my own home. There's just some simple classic chic vibe to it that I absolutely love. Even though I bought mine at Aldi, I've seen them around multiple Target stores; it's kinda great that they're stocked at any local Target store!
Now I prefer to do my makeup in natural lighting, so placing my vanity right in front of the massive window felt just right. I adore my beauty mirror with built-in lighting, as it's double-sided and is zoomed in much closer on the other side - perfect for applying that on-fleek winged eyeliner!
Other things on my vanity include my collection of perfume/body mists sitting lovely on top of my perfume tray, a pot-plant holder filled with my favourite pens and pencils, my heart-shaped trinket tray holding my favourite earrings and everyday watches, my collection of makeup brushes and a mini cupcake-scented candle. These are my current desk necessities.
When you snoop inside my desk drawers and cupboard, this is what you'll find in them.
In the wider drawer is where I store most of my makeup; in the smaller drawer is where I store more makeup that doesn't fit in the other drawer; and in the cupboard is a lot of the bits and bobs that I keep and use every now and then.
*White cabinet from IKEA for $119 | White roman numerals clock from Target for $29 | Faux fur rug from K-Mart for $19 |
Let me know if you want to know where the other little bits and bobs of this section are from by leaving a message in the comment section!
*
I love my movies and binge-watching an entire series is what I do on my days off, so it only makes sense for the bed to be facing the TV. Then right under the TV and PS3 is some of our DVD collection. My boyfriend and I love watching
Supernatural
,
Harry Potter
,
One Tree Hill
and
Friends
together; Ethan's usually either on his iPad or already asleep by the time we get a chance to watch together.
One thing a girl always dreams of (besides being a legitimate princess) is to have a really big closet, and that I do have! Of course it's shared with two boys, but I still get a ton of space for my hoarding self. I do however clean out my wardrobe every couple of weeks because I've found that my style has been evolving and turning a lot more frequently lately.
Well, that concludes the room tour. I'm hoping I inspired at least one of you to jazzy up your room and have a little fun with decorating. Obviously mine isn't totally decked out, but even buying a new piece of furniture can take your room from lame to glam, and instantly make you feel better about your room.
Which section was your favourite?
Filled with love,
Danica xo