Hi loves,
Usually when a blogger is throwing it back and posting numerous photos from their childhood, their text post says something like "fashion was a huge part of my growing up", but unlike everyone else, fashion was NOT a huge part of my growing up. I mean, sure, I dressed up all the time, but it wasn't from my own free will - being the only girl in our family, mum loved to dress me up in the prettiest little outfits, so what you're going to see tonight will be her incredible styling and my love for fashion eventually developing. Here's your in-depth look at my
style growing up -
Newborn: As a mum myself, I know there's not much you can do with dressing up a newborn, and especially a girl, all you can do is dress them in pink and add either a bow or a headband, and mum nailed it. Those puffy sleeves, and ruffled shoe-socks compliment my girly style perfectly, even at the age of 0.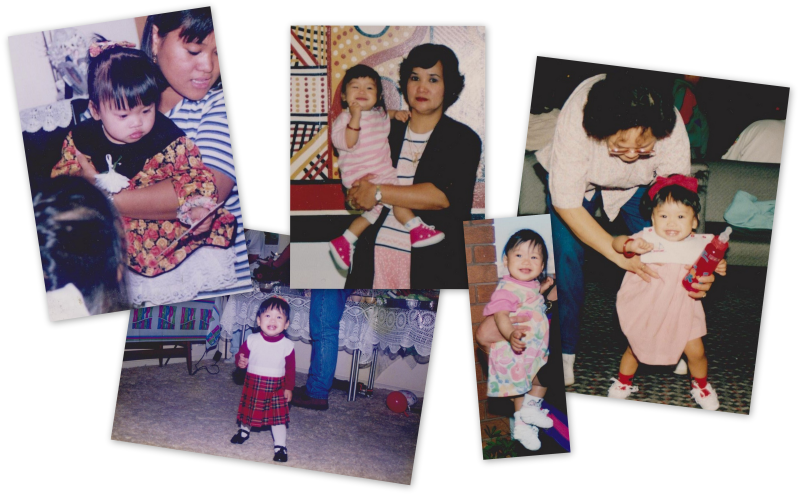 Age 1: I watched my first birthday video and the pics you see here depict exactly how I was as a toddler; cheeky, full of smiles and constantly trying to get into everything. Mum was able to have a bit more fun with creating my outfits during this point of my life. See the adorable floral dress in the top left corner? That was my first birthday dress! See the pic of me walking towards the camera underneath it? That was a few hours before my birthday party because, although I look really happy, a few mins after the pic was taken, I started crying because of how much I didn't like the dress.
Long story short, this girl's been obsessed with florals since she was the age of 1.
Age 2: Hm, it seems I didn't have a lot of pics from when I was 2 years old, but these demonstrate perfectly that year of my life: hats.
Age 3: *Just a little note right now, you're probably going to see my Barney stuffed toy a couple of times throughout this blog post, he was my favourite and still is so shhh*
So I think my third year of life revolved around pigtails like Baby Spice because, why not?
The bottom right pic you see is me eating my 3rd birthday cake before they've even cut the cake for me; ahhh, classic Danica move!
I'm loving every outfit in this year, except that track suits combo with Barney. What was going on there, mum? Comfort over fashion, I bet.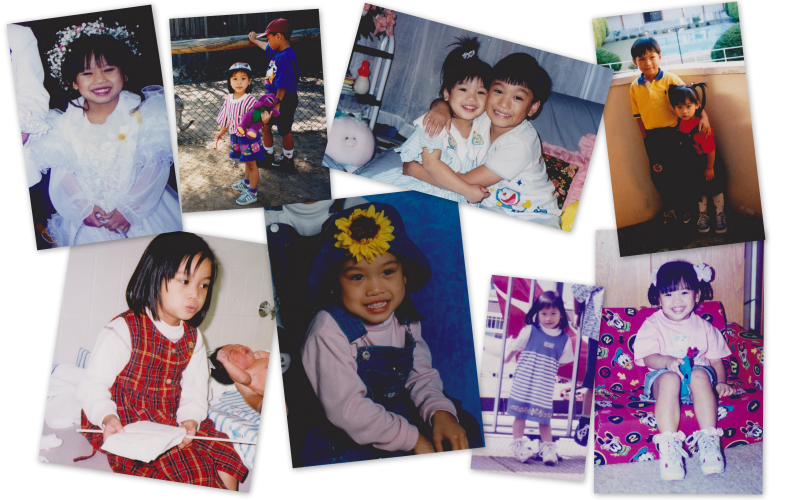 Age 4: The year I no longer became the youngest child, and leveled up as a middle child *oh the horror!* Besides my haircut, a lot happened this year. I was apparently (???) a flower girl for someone's wedding, and went to the zoo dressed head-to-toe in Barney the Dinosaur gear (yep, my socks had Barney's face on them.) My biggest concern though is that sunflower hat. So. Much. Love.
Age 5: This is probably my favourite. I love how you see me repeating shoes and socks consistently throughout outfits. I especially love the bow ballet flats. If only dressing in all these pretty dresses now would be considered fashionable, because guess what, I will definitely be dressing my future daughter in exactly these! #girlinessoforever
Age 6:
I vaguely remember that day when my parents took me to a sprint-race track. Growing up, that was my dream. I wanted to be Cathy Freeman and just run forever. I loved every minute of it. Sports carnivals were my runways. So that, that is the face of a girl who was excited for her dreams to one day come true. Little did she know, she would be re-directed to the ever-so-difficult industry we call 'fashion'.
Age 7:
No, it wasn't Halloween at school or anything - it was actually Book Fair week and I decided to go as a nurse (god knows why?!!!???) but I think I rocked it pretty well.
Now, at the age of 7, I think there was a very distinct line between me dressing for myself and mum dressing me. This is probably the year I started picking my own clothes, because I remember asking for Hi-5 clothing apparel for my 7th birthday and getting really excited as I unwrapped gifts and found just that. Ahhhh, the sheer joy.... *ehem* anyway, yes, you are seeing that right, I am wearing hippie flare pants in the second top left pic matched with a Spice Girls crop tee and Barbie sandals. That was basically my uniform that year, until mum would make me change *sigh, it's fashion, mum!*
Well, there you have it. My style growing up in 7 consecutive years. I swear, the years after this get waaaaay more embarrassing, but I'm considering showing you those too.. Maybe. We'll see. Most likely.
Don't forget to follow me on Instagram! (@danicasarza)
Filled with love,
Danica xo