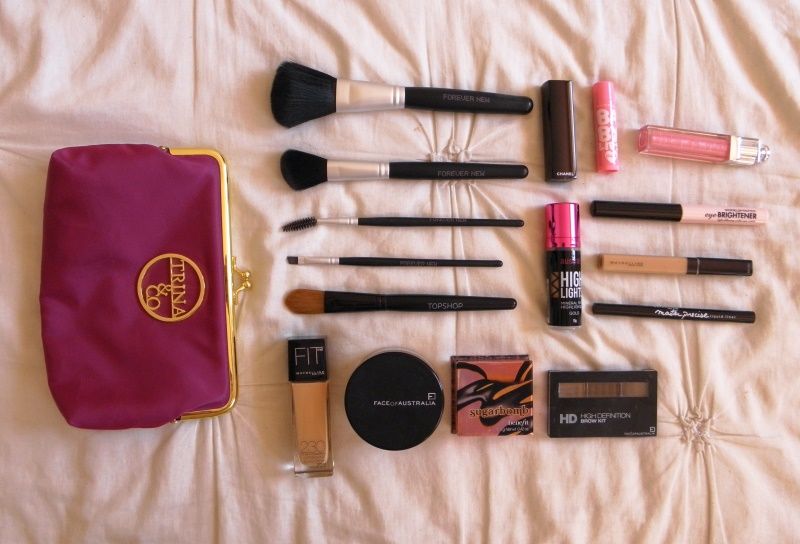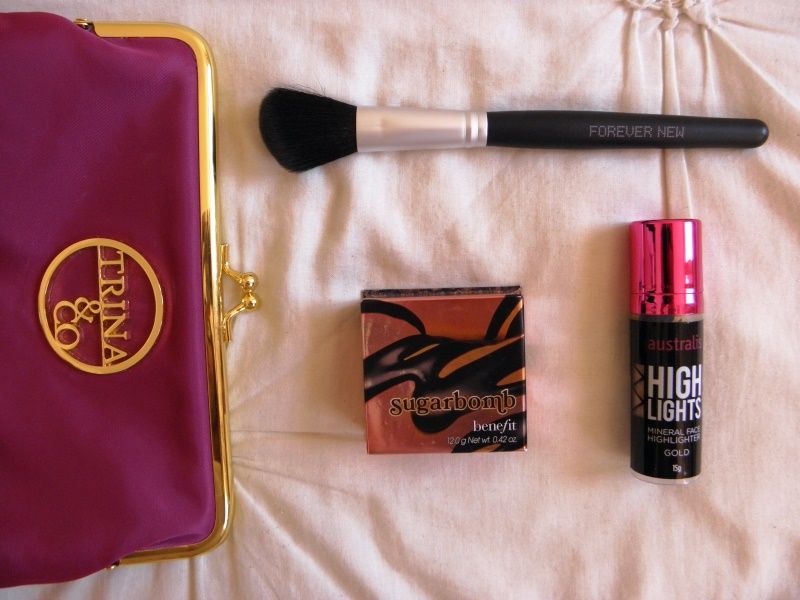 In every girl's bag, you'll find a smaller bag. No, we do not store our entire home in there - but we do store our face in there, well, the products that enhance our natural beauty.
It's been almost two years since I last did a post like this, so I figured it'd be pretty fun to see how my makeup routine products have changed - nice to see they barely have. I'm a girl who stays content and sticks to routines, thus, explaining why majority of my products are the same from two years ago.
Instead of rambling on, let's get on with it.
The products in my makeup bag are:
Maybelline FIT ME Foundation in 230
Maybelline FIT ME Concealer in 25 Medium
Face of Australia Translucent Loose Powder
Benefit Cosmetics Sugarbomb Blush Powder
Australis Cosmetics High Lights Mineral Face Highlighter in Gold
Face of Australia High Definition Brow Kit
Models Prefer Eye Brightener
Maybelline Master Precise Liquid Liner in Black
Maybelline Baby Lips Colour Lip Balm in Pink Lolita
Chanel Rogue Allure Lipstick in 94 Extatique
Christian Dior Addict Gloss in 453 Dolly Pink
Forever New Large Powder Brush
Forever New Angled Blush Brush
Forever New Spooli Brush
Forever New Eyeliner/Eyebrow Brush
Topshop Liquid Foundation Brush
Faves from my face base products:
I love the coverage I get from the FIT ME foundation because personally it doesn't feel too cakey on my skin. Although it does appear to make me look oily, which is why I use the translucent loose powder on top of it to matte it down. I feel like matte foundations keep my skin from breathing and make it super dry, which is why I choose to use a slightly oily liquid foundation and top it off with a powder.
The concealer is not my favourite thing to use for under my eyes (my eyebags and dark circles don't get concealed all that well), but I do find that it conceals my redness and blemishes flawlessly.
Faves from my highlighting products:
Unlike other people, I'm obsessed with Benefit's Sugarbomb blush powder rather than Hoola! I feel like bronzer does nothing for me except make me appear to look like a cast member of Jersey Shore - but a nice blush can give me the perfect pink flush to accentuate my cheekbones (or lack thereof.) A few dabs of the powder onto the brush and no more than 3 swipes, you're ready to go!
Faves from my eye products:
Not a huge fan of eyeshadow, as I don't know how to properly apply it, so the next best thing for me is a tie between my two most loved eye products - liquid eyeliner and brow powder. I can't go with a day wearing makeup without creating some sort of a winged liner and/or my brows done right. But I promise you, I will learn how to properly apply eyeshadow one day.
Faves from my lipstick products:
How does one not have Chanel as one of their most favourite lipsticks ever? The hint of blue in this shade is perfect for me. It suits really well with everything I wear and it doesn't overpower anything. It blends in with my skin really evenly and enhances my entire face. That's what a simple lipstick can do.
As for my makeup bag, I got it from Target a few years back. I've been really connected with it, but I feel like it's time for a change and time to go out and get a new one.
Until my next post,
lots of love,
Danica xo