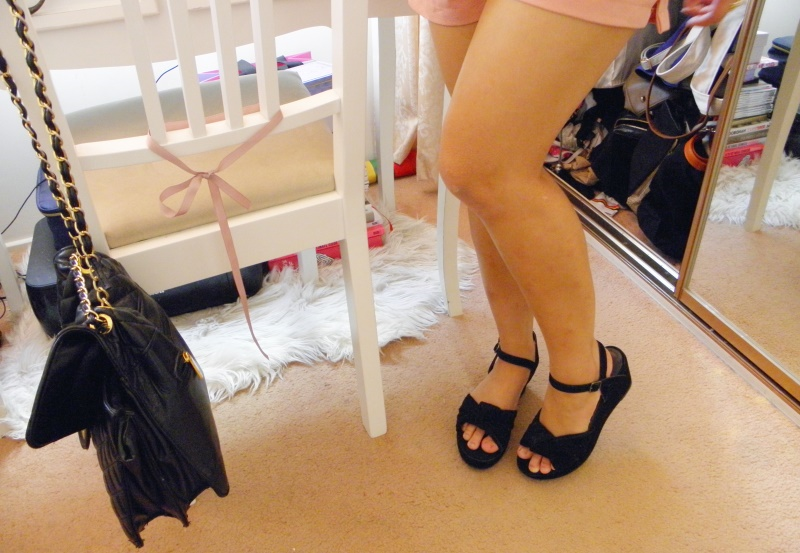 Bag: Colette by Colette Hayman
Bracelet: Colette by Colette Hayman
Rings: (L-R): Temt, eQUIP, Diva
Maybelline FIT ME Foundation in 230
Models Prefer Eye Brightener
Maybelline FIT ME Concealer in 25 Medium
Face of Australia Translucent Loose Powder
Benefit Cosmetics Sugarbomb Blush Powder
Maybelline Master Precise Liquid Liner in Black
Face of Australia High Definition Brow Kit
Revlon Colourburst Lip Butter in 090 Sweet Tart
And they said, "let them eat cake." Ha, just kidding! Well, maybe they did, but anyway, back to today's post!
It's no secret that I absolutely love the girly style. Walk into a store, find a cute pink top with unique cuts and/or styles, then you've got me at the counter buying that sucker.
What I really love about this look is how simple it is, but how it still stays true to my style and what I love most when looking for outfit inspiration. When you think about it, pink and purple together in an outfit is like a 5 year old outfit gone wrong, but it's all about finding the right tones that go together, and also how you add the accessories. Since you're clashing two strong colours together, opt for the most basic neutrals - your blacks, whites and browns.
I tucked in my purple scallop-edge top with pink shorts with bows on the side. Make sure you grab a few stylish pieces of jewellry because accessorizing is really important when trying out a colourful look and also when colour blocking. Adding a pair of black flatforms to compliment the look, and matching my bag to my shoes perfectly finishes the look.
Until my next post -
Lots of love,
Danica xo