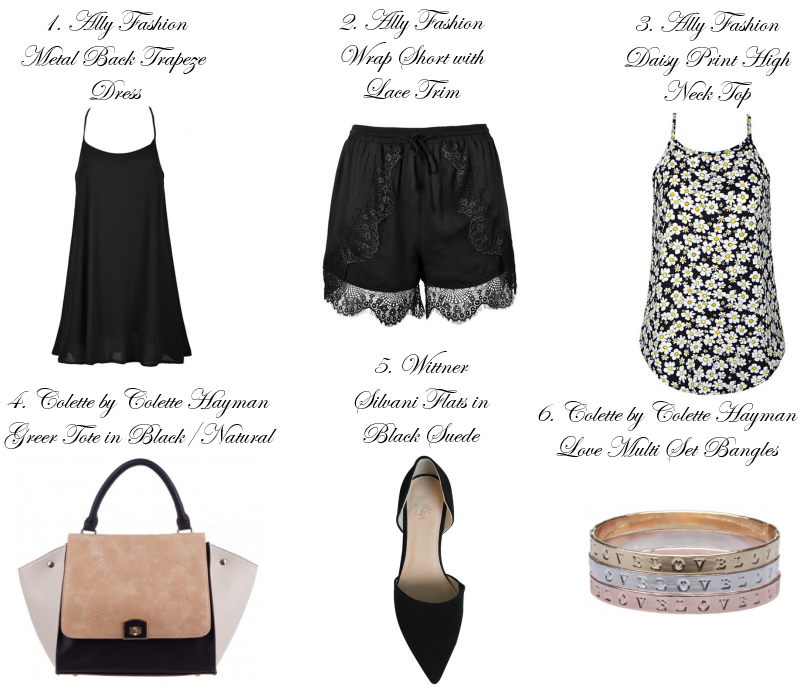 Happy Wishlist day!!!
Obviously I'm more excited about this post than you possibly are, but I really like making these collages, and it's actually a great way for me to keep track of things I want to add to my wardrobe.
I'm old fashioned (and impatient) therefore I buy everything in stores rather than online. The only time I'd ever buy anything online is if the brand doesn't have a holding store or if it's absolutely sold out everywhere except online (which, surprisingly, is a very rare chance for me).
In the last few months, I've noticed that my style has evolved a lot. Don't worry, I still like to make sure my style is as feminine as possible, but I've been trying to stock up on a lot of neutrals and blacks because a lot of them are just so versatile.
This week I am wishing for:
Ally Fashion metal back trapeze dress. I've been on a major hunt on some dresses lately, because during the Summer, I just cannot find myself getting comfy in anything but a breezy dress. Considering I'm rather petite in height and weight, something that hits just above the knee is pretty darn perfect. I find a lot of dresses hit on or below my knee and tend to make me look a lot smaller than I am. It's always a hem problem!
Ally Fashion wrap short with lace trim. Admit it, you've seen these shorts everywhere! I know I have, and honestly, I can't get enough of them. They're so cute, but versatile. I've seen so many girls wearing this pair of shorts and styling them pretty impeccably. I am in awe with how well these shorts go with anything and everything, thus, I must have one for myself.
Ally Fashion daisy print high neck top. Spring, Summer, daisies! I'm pretty stoked that the daisy print is back. Thought I'd be rocking it and looking like a lost kid from the 90's. Nevertheless, I know it was bound to come back. It's hard to resist such a cute print!
colette by colette hayman greer tote in black/natural. Working as a Christmas Style Assistant for colette means majority of my pay check goes immediately back to them (who can resist if you get 50% off for being a staff member?) but it also means my Christmas shopping is made easy!! Seriously, majority of the gifts I'm buying this year are coming from colette. Not only because I get a discount, but because they actually have some great stuff in that are perfect stocking stuffers! But anyway, this bag! This bag reminds me so much of the Celine trapeze bag. I already have one that's kind of like the trapeze bag that I got from Valleygirl but I need one in neutral tones like this one.
Wittner silvani flats in black suede. So chic and so versatile, I am adoring these flats from Wittner! Have always wanted a point-toe pair of flats but never could find the perfect pair - until now. Although these are a bit more on the pricey side, I'd find myself never without these babies, so it's a pretty handy buy. There's just something so classic about a pair of point-toe flats, and I definitely love classic pieces!
colette by colette hayman love multi set bangles. Ahhhh, love bangles. Considering I rarely wear bracelets because they never ever fit around my tiny little wrists, I'm willing to take a chance on these bangles and let them become a part of my jewellry collection. So simple yet stylish, pretty perfect to slap on your wrists and add to an outfit when heading out. It's these simple additions that can make or break an outfit, but you can't go wrong with the shiny trinity - silver, gold and rose gold!
Until my next post,
Danica xo