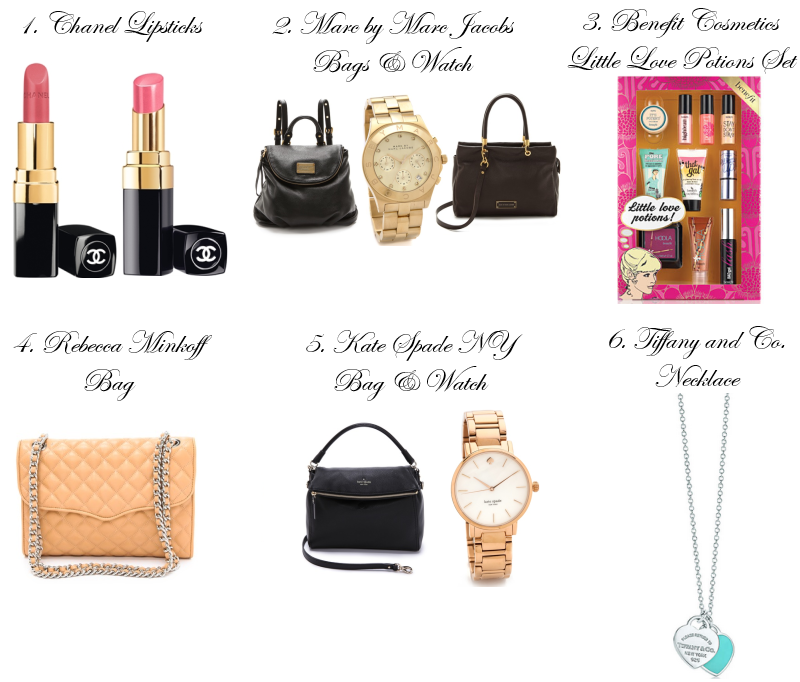 For Christmas, I always know precisely what I want. Thing is, I prefer to buy it myself than have other people gift it to me. You could say I'm picky that way. So, in case anyone takes a look at my blog before Christmas, there's no way they can find a gift that will be what I want because it'll be waaaay out of their league (and their price range.)
This week I'm wishing for:
Chanel rogue coco hydrating creme lip colour & rogue coco shine hydrating sheer lipshine. Haven't necessarily decided on a shade I want quite yet (there's just too many to choose from!!) but I've currently got one Chanel lipstick that's got a hint of a blue tone to it and I absolutely adore it! I only wear it on special occasions because if I were to use it as many times as I'd wanted, it would run out in a week!
Marc by Marc Jacobs classic q mariska backpack in black, large blade chrono watch in gold, & too hot to handle tote in carob brown. Have always dreamt about owning something - anything - Marc by Marc Jacobs. This backpack is absolutely adorable, and this tote is absolutely stunning, I am forever obsessed!!!
I've also always wanted a Marc Jacobs watch because they're so gorgeous and they go perfectly with everything, how do you not want one?!
Benefit Cosmetics little love potions set. Originally, I would have loved the Benefit Advent Calendar (goodbye $100) but they're literally sold out ANYWHERE and everywhere that they sell Benefit Cosmetics, so this little set is the next best thing because for $60, you get mini versions of all of these best-sellers! Win-win!
Rebecca Minkoff quilted affair bag in nude. Ahh, Rebecca Minkoff, you beauty. Her bags are absolutely gorgeous and greatly affordable! Loving this nude quilted chain bag, and would love to add it to my collection of quilted chain bags (I can't help it, Chanel got me obsessed!)
Kate Spade NY cobble hill little minka cross body bag in black, & gramercy bracelet watch in rose gold. Oh my god, don't even get me started on Kate Spade. Her designs are so modern chic, I adore it!! Have always wanted a Kate Spade bag and watch because I lust over her fashion line, but a bag and a watch is probably the closest things to her that I can afford.
Tiffany and Co. double heart tag pendant in silver & tiffany blue. I was talking to my boyfriend about this and he was actually going to head off and buy me this, but I would actually much rather it for my 21st birthday or something, just because it would have so much more meaning to it. But, again, I've always wanted to own Tiffany and Co. jewellry but especially this necklace just because it has the classic tiffany blue heart on it.
Look forward to the second part of my Christmas Style Guide tomorrow!
Until my next post,
Danica xo