If the past week is anything to go by, clearly Spring is here and here to stay (well, for the next 3 months, then we'll be soaking up the Summer sun) and if anything, we should get out of our Winter funk and prepare our body, skin and style for the warmer seasons to come.
I bring forth a post to possibly help you out a bit and give you 5 tips on what you should to help you Spring into Springtime!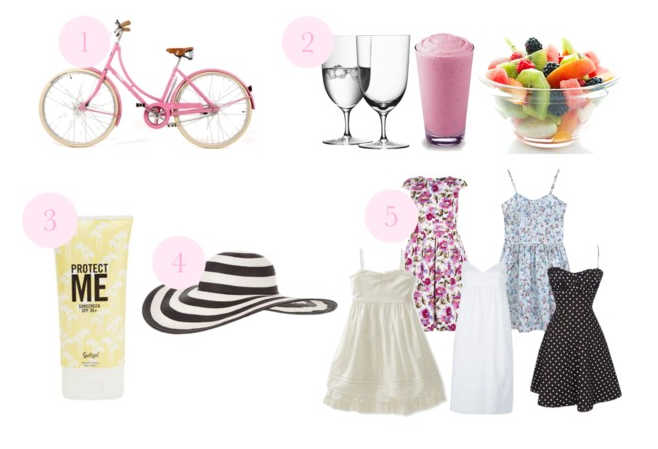 1.
Get up at around 7am every morning and go for a morning stroll/bike ride.
The sun is the nicest early in the AM, so make sure you consume all of that healthy vitamin D early in the morning, whether it be with your significant other, your kids, or maybe even plan a few mornings with a few of your best girl friends to go for a morning stroll or bike ride, then grab a cheeky breakfast afterwards.
2.
Drink plenty of water - but don't hold back on those smoothies and fruit salads!
As a regular water drinker, I can tell you how much good it can do for your body and skin. So drink plenty of water throughout Spring (and also Summer), but enjoy a smoothie or two when you're given the opportunity. They're delicious and depending on what you get, rather good for you!
Another one of my Spring time faves is a delicious and cold bowl of fruit salad; chopped up kiwi fruit, bananas, peaches, watermelon, oranges, and the best bunch of the berries.
3.
Apply at least two layers of sunscreen - you're going to need it!
Obviously, the sun is popular during the hot seasons, so is its best friend sunburn - so layer on that sunscreen when you hit the beach, or even just go out to run errands. The sun is harshest during the middle of the day, so be sure you're wearing at least 2 layers of sunscreen.
4.
Invest in a wide-brimmed sun hat.
As I've mentioned, the sun is its brightest and harshest during these warm seasons, so getting yourself a stylish and versatile sun hat is a must, especially if you're going to be spending a lot of your time outdoors (the beach and the park are calling your name as we speak.)
5.
Get yourself five pretty sundresses - you'll get so much use out of them!
One of the reasons as to why I love Spring time is because pretty sundresses are instantly back. Seeing such stylish ladies rocking the look on the streets inspires me and I just love the entire girly vibe. Sundresses are flattering for any body shape, and are so easy to style. Tip? Pair them with your best cork wedges, and that sun hat we talked about, and you'll instantly be chic.
So that's it from me. I sure hope you found this helpful because I actually really enjoyed making this for you.
Until my next post,
Danica xo