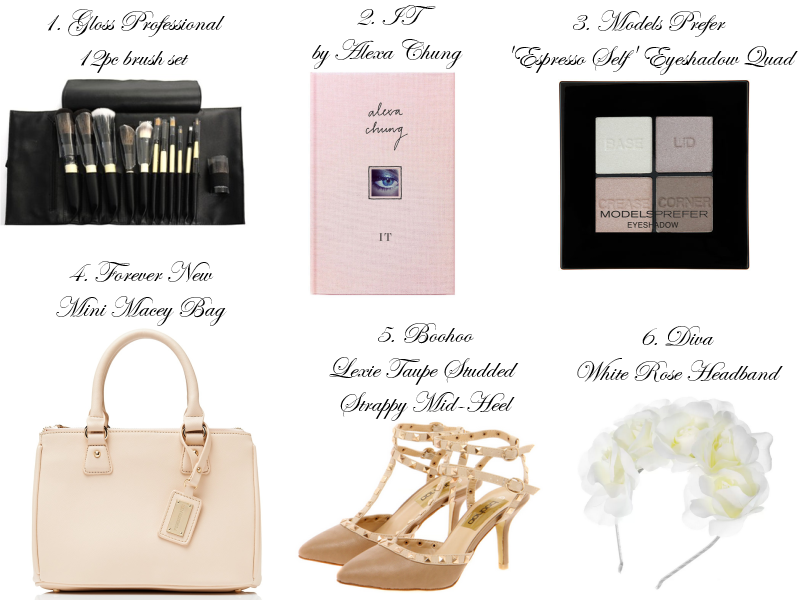 Hi sweets,
I'm baaaaack! Well, technically,
Weekly Wishlist
is back, but still, yay for frequent coveted pieces being morphed into a collage on a weekly basis! I can't believe the last time I made a wishlist was in May (and actually the week of my 20th birthday, wow), but I'm glad it's back because honestly, this is the easiest way for me to list the things I want to buy in the weeks to come when the funds roll in, y'know what I'm sayin'?
This week I am wishing for:
Gloss Professional 12pc brush set. I know what you aussies are thinking, "Gloss, really? Are you sure?" but their brushes are actually so soft and work really great (known from the way I sampled them in store), and I'm actually really considering purchasing these but I am still in a bit of a pickle choosing between these or the e.l.f. studio brush set? Either way, I hope to eventually own both in my collection, because dare I say it, I'm slowly but surely, learning how to use makeup and it's actually quite fun, but obviously I need the right tools.
IT by Alexa Chung book. I've heard amazing buzz about this book. Personally, I adore Alexa Chung and her boy-ish yet feminine style. It's so cute and chic, I can't get enough of it. If I scroll through Tumblr and come across an Alexa Chung photo, you better know that that image is instantly in my feed. So with the release of her new book, IT, I'm so excited to add this to my collection!
Models Prefer 'Espresso Self' eyeshadow quad. So yesterday for #GoNakedDay (to support Priceline and Look Good, Feel Better - an organization that boosts the self-esteem of women who have appearance-related side effects from cancer), I headed to my local Priceline and donated some money, then received a free goodie bag, Cosmo magazine and a free makeover! The MUA was to focus on one facial feature to makeover, and I got her to teach me how to apply eyeshadow. She used the Models Prefer eyeshadow quad but not in 'Espresso Self' but in 'Style Icon', but I think I prefer this one because the colours are a whole more neutral and easy to pull off. The reason I want this is because the palette already tells you exactly where to put it. So for a beginner like me, this is 1000% useful and helpful!
Forever New mini Macey bag. Do I even have to say it? It looks so much like a Prada Saffiano! I love the colour of this bag. It totally reflects me, thus, I need it immediately. I mean, look at it, it belongs in my current bag collection. And as I've said before, I'm in a current bag craze right now, so let's be real, this is a Danica need.
Boohoo Lexie taupe studded strappy mid-heels. Another designer look-a-like, this reflects the Valentino studded kitten heels. I've actually been lusting over these for a while, but I could never find the funds to afford the real deal, so when I headed onto the boohoo website and found these babies, I immediately hit the star and it saved into my bookmark folder named "Want".
Diva white rose headband. Flower headbands have been circling the fashion world as of late, and I'm impressed because I'm actually quite obsessed with them. This white rose headband is pretty perfect considering it can easily match any outfit considering it's a neutral tone. White can suit anything and when you're me (someone who wears minimal accessories), a white accessory is the perfect addition to your closet.
Until my next post,
XO