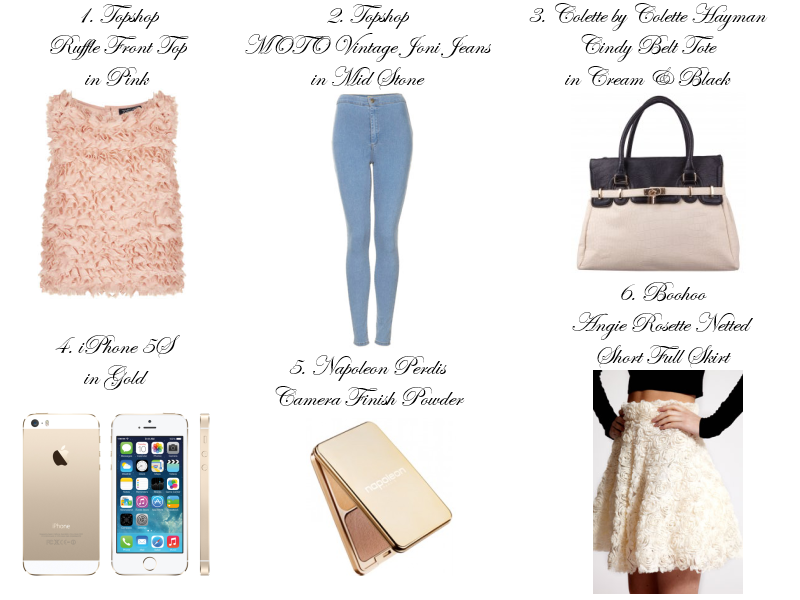 Hi sweeties,
It's been a pretty full-on week. I've been working on my styling assessment, done interning, celebrated my 7th anniversary with my boyfriend, and yesterday I had a photo shoot at college for a newspaper article (more details to come!). I'm taking a break from working on my styling assessment, so I'd decided to create this week's wishlist for you to suss out.
This week I am wishing for:
Topshop ruffle front top in pink. In my opinion, ruffles are one of the most girliest materials. The fact that this ruffle top comes in pink gives it that much more of a girliness vibe. As Spring has rolled around, this cute little top is the perfect addition to my wardrobe. I can already think of 100 ways I could style this pretty little number because it's so versatile. I would probably even wear this in Winter!
Topshop MOTO Vintage Joni jeans in mid stone. The 90's are back, and these jeans are the perfect example of what you need to pick up to complete the look. I'm a die-hard fan of Sabrina the Teenage Witch (I've got the entire series collection) and with a lot of her chosen outfits, I end up trying to determine whether or not I could get that outfit in stores now, and surprisingly, I can! In 90's flicks and TV series, they wear a lot of these jeans, and you know what? I want them! It's perfect too because I need jeans in this tone.
Colette by Colette Hayman Cindy belt tote in cream and black. Reminds me a little bit of the Hermes Birkin bag in two tones, and as I know for a fact I'll never be able to afford a Hermes handbag, Colette's range comes in and takes first place winnings. I've realised that I own too many black bags, and considering this is majorly cream with a hint of black, it balances it out.
Apple iPhone 5S in gold. The new series of iPhones were released yesterday, and I was on a waiting list since last week when the information was released about when it was coming out. Unfortunately they didn't get the gold in stock yet, so I may have to wait a couple more days, which is fine, but I honestly just want to hold it in my hands because I've been waiting over a year to update my handset. I'm so excited to get this phone because 1) I need an update badly (I have the iPhone 4, not 4S, 4!) and 2) it's gold!! It may look tacky to some, but to me, it looks undeniably attractive.
Napoleon Perdis camera finish powder. One handbag necessity a girl needs is a compacted powder. Personally, I don't have one yet, so I've been reading reviews for this and I've been pretty pleased with what I've read. A lot of them said it's a non-cakey with oil control powder which is great for me! My skin's pretty dry but when I wear the foundation that I wear, it looks super oily so NP's camera finish powder seems like it would work wonders for me. It's super light coverage, which is fine because it's just a powder to go on top of my base foundation anyways. Plus, NP's packaging is always on-point.
Boohoo Angie Rosette netted short full skirt. I saw a pic of this skirt but in a jumper version and I fell immediately in love. I haven't exactly found the jumper, but this skirt's the next best thing. I'm a skirts kind-of-girl and the material sewn to appear like roses all over the skirt is romantic and beautiful. So classy but trendy too. The colour makes it easy to style with other pieces but considering the skirt has a lot going on already, you'd want to stay simple up top so that it doesn't draw too much attention away from the skirt.
Until my next post,
Danica xo