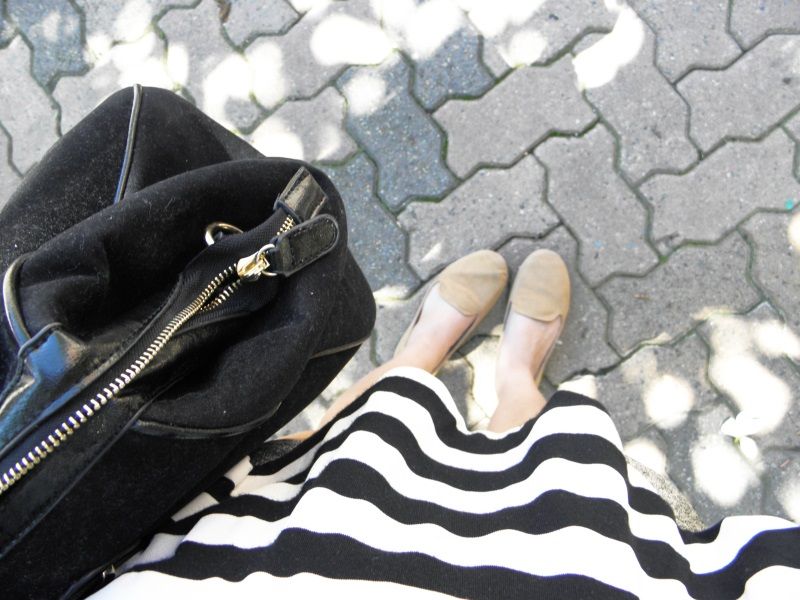 What I'm Wearing:
Top: Dotti
Shorts: Valleygirl
Shoes: Rubi Shoes
Bag: Temt
Necklace: Colette by Colette Hayman
Watch: Valleygirl
Chain bracelet: Diva
Ring: eQUIP
Earrings: Diva
What Makeup I'm Using:
Benefit That Gal Brightening Face Primer
Australis Paparazzi Perfect High Definition Foundation in Natural Beige
Garnier Roll-On Anti-Dark Circles Conealer
Models Prefer Liquid Eyeliner in Jet Black
Face of Australia Blush in Primrose
Revlon Lip Butter in Sweet Tart
As someone who enjoys writing and photo-documenting, blogging becomes a sane environment and a safe place. But as you go on, you realize you're busier than you were expecting, and some posts get left behind and forgotten. So today, I come to you with a month old Outfit of the Day post from when I headed into the city for my interview at The Fashion Institute (which was successful!), and then back to the west for my interview with Rubi Shoes (which sadly, wasn't as successful but there'll more opportunities!).
The weather was beautiful in the city, and it was impossible not to love and enjoy it. Surry Hills is probably one of the most beautiful places in Sydney and I'm so excited to be studying fashion business there next month!
As it was a rather warm day, I found this outfit to be comfortable and chic at the same time which was basically perfect because there was tons of walking involved and travelling on public transport from here and there.
The scenery at Surry Hills is gorgeous. If you're in Sydney, you need to stop by and make sure you take loads of photos there because the town houses and streets are just beautiful.
*Images were photographed by Henry Escandor*
Love from,
Danica
XO