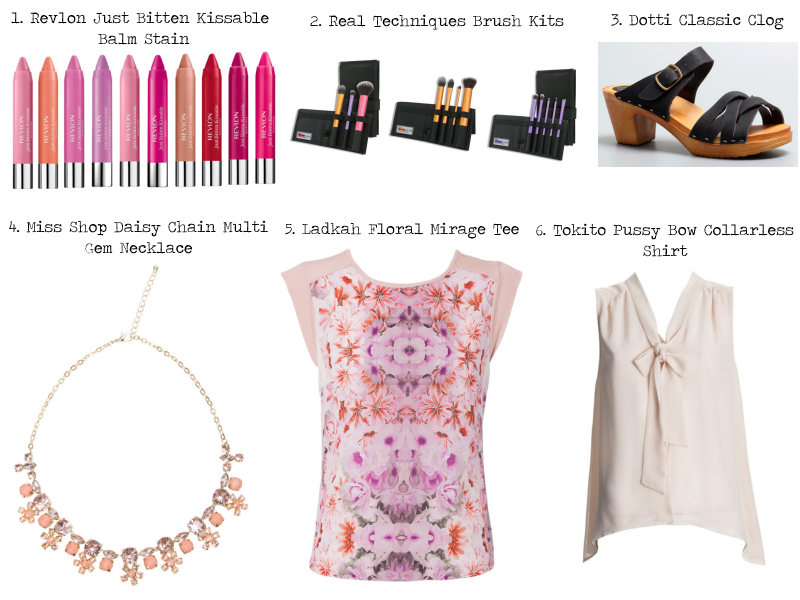 Hi dolls! After unintentionally forgetting about doing my
Weekly Wishlist
last week, I made sure to make myself available to create one this week. Although I am consistently called out 'mummy! Mummy!' every two minutes by my three and a half year old son, I'm sure I'll eventually get this post together. I actually just found out that I will be heading overseas to New Jersey/New York/America next Spring for my cousin's gorgeous wedding as a maid of honor, and I could not be more honored or more thrilled! I am so excited, and although it's 18 months away, I'm just really delirious about finally seeing all of my family over there after years and years of not being able to hug them or talk face-to-face with them. Even though I'm saving up for fashion college right now, I'm going to have to throw in 'saving for America' into that big ol' pot, and guess what guys? More wishlists! Considering I'll most likely do massive shopping trips while I'm over there.
This week I am wishing for:
Revlon Just Bitten Kissable Balm Stain. As a strong lover of Revlon's Lip Butters, (which I need every single colour in my make-up collection, thanks), I tested out the chunky balm stains the other day and immediately began my infatuation. I went on the Priceline website to get these images, and there's ten. I don't know if that's all of them, to be honest, but of course, I only ever really buy my cosmetic products from Priceline. They always have fantastic deals, specials and offers with a lot of drug store brands. The balm stains' names in order are: Adore, Charm, Cherish, Darling, Honey, Lovesick, Precious, Romantic, Smitten, and Sweetheart. Just like the Lip Butters, I want every single one of these colours in my collection. I've just gotta!
Real Techniques Brush Kits. When I first started blogging, a lot of the blogs I followed were british or american, obviously, and a lot of them used Real Techniques brushes, and once I'd given make-up a shot, I knew immediately that I had to have a magnificent brush collection and what better than Real Techniques, right? So, I'm super glad that my favourite place to get my make-up has finally brought these in and are so much easier for me to go out and buy. There are currently three kits: (in order of image) On Location: Travel Essentials Brush Kit, Your Base/Flawless Core Collection, and Your Eyes/Enhanced Starter Set (according to the Priceline website.)
Dotti Classic Clog. If you follow me on Twitter (@danicasarza), you've probably heard me say that I need a pair of clogs in my life, because I really do. I remember seeing them at Rubi Shoes a while ago, but obviously they're gone by now, so I was so happy to find these on the Dotti website. They're super cute and so versatile, especially for someone like me who wants to wear heels, but can barely last 2 hours in them.
Miss Shop Daisy Chain Multi Gem Necklace. My obsession with gem stone and diamante necklaces continue. They're such a statement, and can honestly make a simple outfit so trendy and chic. Miss Shop is one of my favourite brands for chic apparel, but I never noticed their accessories collection until now, and wow, they are gorgeous!
Ladkah Floral Mirage Tee. I love floral, and I love the mirror effect. What more is there to say? The colours mash so well together, but then the simplistic structure of the top reeled me in, too. I just wish there was a size to fit me, because I know a size 6 of this top would feel like a 10 or 12 on me. Being petite stinks sometimes.
Tokito Pussy Bow Collarless Shirt. I use to have a top just like this; pussy bow, ivory/white, and sleeveless, but I gave it away a while ago, when I cleaned out my closet. Now I'm regretting it, and wanting more pussy bow tops, especially for Autumn/Winter because the colours that they come in during the season is the perfect reason as to why. They're so simple, yet trendy. That's what I looooove so much!
Love from,
Danica
XO