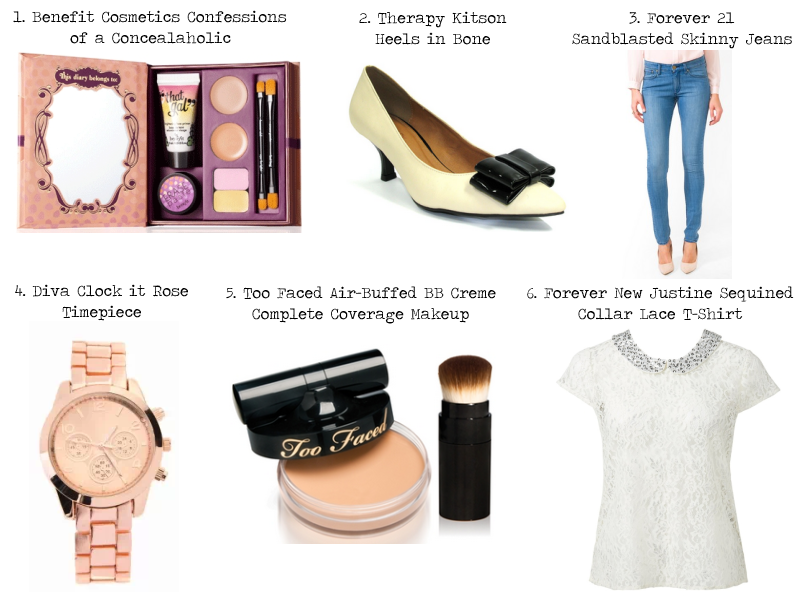 Hi girls!
It's Weekly Wishlist tiiiiiiime! I realized I've been lacking posts this week, so I am terribly sorry about that! I've just been super busy.
This week I am wishing for:
Benefit Cosmetics Confessions of a Concealaholic. I have so many uneven spots on my face and my eyes always have dark circles, so I think this would be such a good investment for my beauty bag. I hate that these products are sooo darn expensive here in Australia.
Therapy Kitson in Bone. Okay, I'll admit to saying that I was never a fan of kitten heels. I just never understood them. But these look superbly cute and I could not help myself. And since I can't spend too long in heels, kitten heels might be my easy go-to shoes for glamorous nights sometimes.
Forever 21 sandblasted skinny jeans. I've been looking for jeans in this exact colour and style everywhere and it just seems nearly impossible. So I figured "Forever 21 has everything, it must have it and for a cheap price," and to my certain surprise, there it was. I think I saw a pair like this in Myer the other day though, but it was only the colour that was right. Anyway, I really need a pair of jeans like this in my closet immediately.
Diva clock it rose timepiece (watch). I've always wanted a rose gold watch. Possibly a Michael Kors or Marc Jacobs one, but due to my bank account, this will have to suffice. Maybe I'll get an MK or MJ one for my 20th this year, who knows? There's a lot on my birthday wishlist.
Too Faced Air-Buffed BB creme complete coverage makeup. Okay, so I've heard all the rave about BB creams, but I'm not 100% sure on which one is the best one. I don't even know if this Too Faced one is any good, but all of their products seem so lush, I figured I'd slip this into my wishlist. Point of the matter is, I need a BB cream. Recommendations?
Forever New Justine sequined collar lace t-shirt. Forever New. Collar. Lace. I think those four words explain everything. No, but seriously, this top is so pretty. The details and embellishments, just wow.
Oh, by the way, my boyfriend and I decided to do that 'my boyfriend does my makeup tag' video, so you can find that
here
if you want to have a laugh and see him destroy my face. Our son decided to take part in it too, so watch it and see what my son does to my face also!
Enjoy!
X