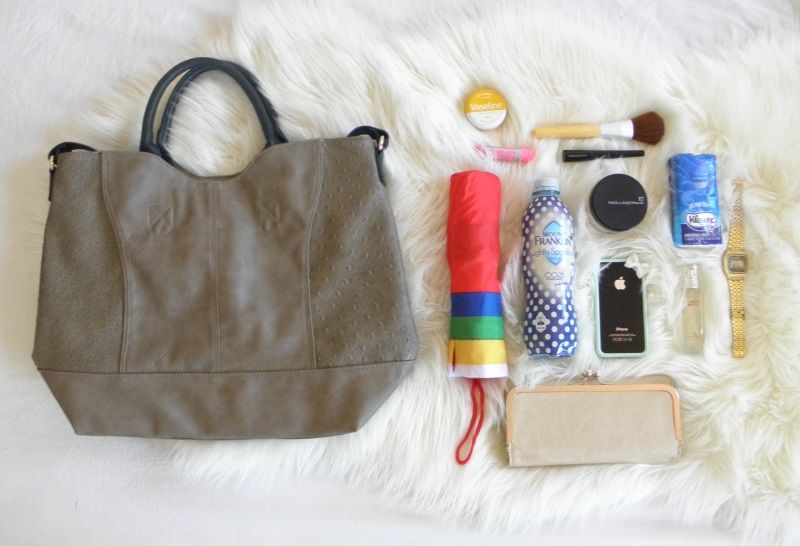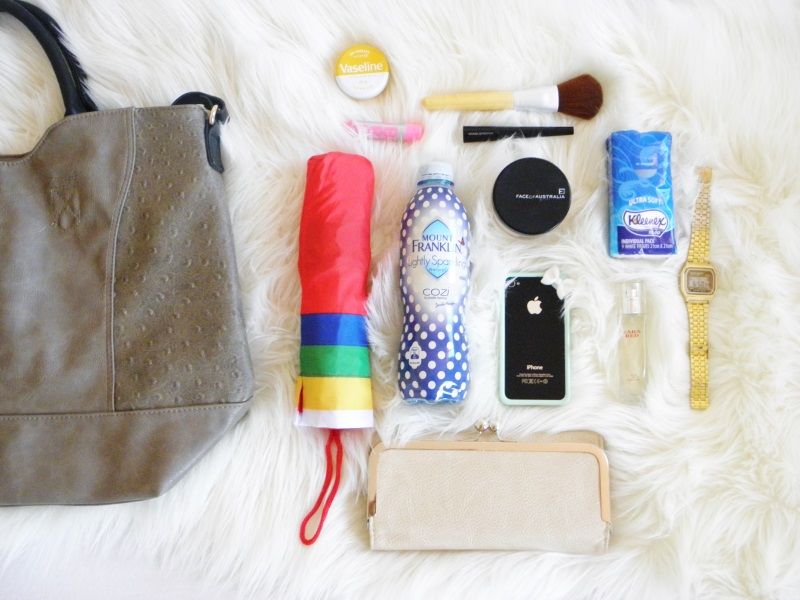 Hi girls!
Ta-daaaaa! Another version of a
What's In My Bag
!
First thing's first, I got this bag on sale at
Temt
and I was so stoked because it's a bit more of a chic-er version of a shopping tote and for only $9.95? Had to get it! The colour makes it a neutral bag that goes with anything and everything in my wardrobe.
So, here are the contents of what's currently in my bag:
Sportsgirl umbrella: This umbrella is massive. It can probably fit like 3 or 4 people under it, unlike other travel-sized umbrellas. I've wanted a Sportsgirl umbrella for a while, but couldn't decide on whether I wanted one of those large transparent ones or this, so when I walked into the store the other day and saw this was on 20% off, I figured I might as well buy it as it fits perfectly in my purses.
Clutch-lookalike wallet: I bought this from Valleygirl and have gotten many compliments about it ever since. It's so functional and handy for me as I have a lot of card and it has so many pockets and slips.
Polka dot Mount Franklin water bottle: It originally says it's 'lightly sparkling' water, but I actually emptied it out and just replaced it with tap water. Naughty, I know. But it's too pretty to chuck away! Well done, Mount Franklin.
My iPhone 4 wrapped in its super cute Forever New mint green bumper: How could I not have my lovely iPhone in my purse?
Loose powder: Branded by Face of Australia, I always carry this so that I could do frequent touch-ups while I'm out.
Powder brush: Branded by ecotools, I obviously carry this for my loose powder.
Liquid eyeliner: Branded by Models Prefer, I always carry this to make sure I can touch up my lids for when it gets smudged or whatever while I'm out.
Maybelline's Baby Lips chapstick: This cute limited edition is my absolute fave and smells absolutely delicious! I definitely recommend these lip balms.
Vaseline: A back up to my lip balm. Second best thing.
Pocket tissues: Kleenex have the softest tissues so I always carry a small pocket tissue in my bag for those unfortunate days or times.
Perfume: I got this Zara Red perfume as a birthday gift and I looooove how it smells. I don't wear loads of perfume so one small spray from this will last you hours and hours.
My watch: Looks like a Casio though is anything but a Casio. I don't keep this in my bag, I'm usually wearing it, but when I emptied out my bag it was in there so I figured oh what the hey, just chuck it in the picture.
Well, that's currently all that's inside my bag.
Enjoy!
X